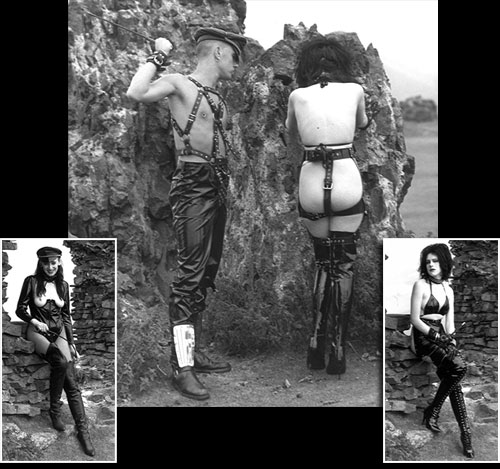 Over the last few years Hidebound has become a respected member of the fetish scene. the owner Jim has a very open mind, and is always accepting new ideas and people.
Over the last couple of years Hidebound has been expanding. they have been moving out into the club market doing various stalls at a lot of the fetish clubs around the country.
Most of Hidebound's goods are leather harnesses and restraints. But now Hidebound has moved into the PVC clothing market.
Today we met Jim in Wales and proceeded to the location we had chosen. the weather was very damp, and the rain was coming down in short showers. By the time we got to the top of the mountain (after proving how unfit we all were) the worst of the weather was behind us.
But please spare a thought for the models, it was cold, wet and very windy.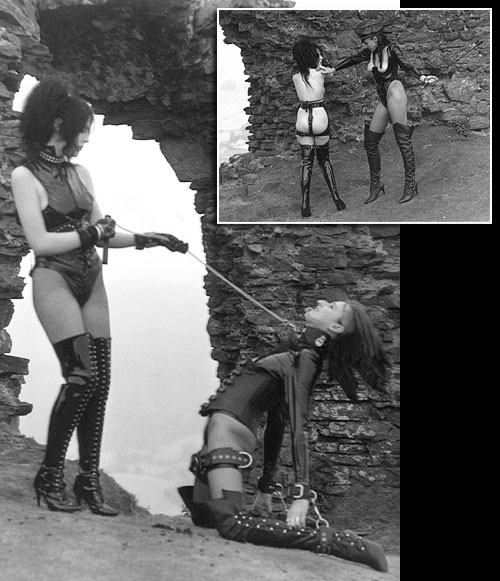 Evangaline: Is there any particular reason you decided to start up your own business ?
Jim: Well, I decided about four years ago, to look at the direction I wanted to move my career. Being nearly forty it took a lot of thought, but in the end I decided to leave my position in waste management, and launched into the world of creating and manufacturing heavy leather designs.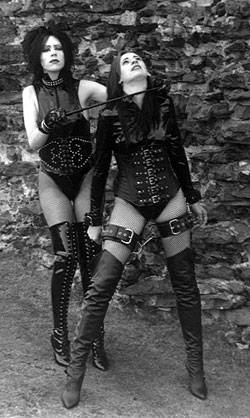 This step wouldn't have been possible without the support of my wife Jeanette.

Jeanette: I knew Jim wasn't happy in his job. He's always had an interest in so called fetish clothing and accessories.

Evangaline: Why did you choose the name Hidebound ?

Jim: The name seemed to sum up what we were about. At the time we were providing close fitting leather, restraints and harnesses and other items of clothing. The name is also a play on the other dictionary definition "narrow minded and rigidly conventional", something that our Hidebound certainly is not.

Evangaline: How did it all start ?

Jeanette: He started by making up a few items of his own and for a few friends. But, like most men, he enjoys looking at girls in clingy leather and rubber restraints.

Jim: Jeanette's support was of paramount importance, particularly in the early days. She takes control of the administration side of the mail order retail business, whilst I control the design and manufacturing side.

We started with a small catalogue of restraint and harness items in heavy leather. Feedback from our customers prompted us to add a bought -in range of decent quality moulded latex, play clothing and accessories.
Evangaline: So what was the next step you had to take ?
Jim: Well, next we decided that we would have to invest in a better catalogue. The early catalogues were superseded by a pair of photographed catalogues, one featuring some of the clothing ranges, and the other showing some of the restraints and harnesses.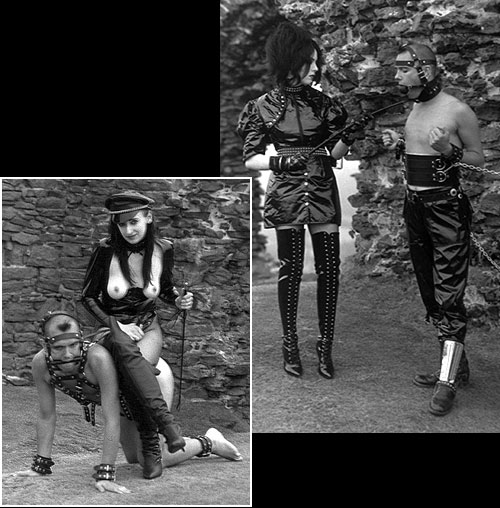 Evangaline: What is Hidebound's range of clothing and accessories now ?
Jim: We constantly monitor our customers' requirements and comments. At present we supply a wide cross section of products. We still specialise in the leather restraints and harnesses, but now offer most of these designs in rubber as well. We still offer the moulded latex range but we now offer a custom made service on quality sewn, and glue seam rubber clothing.
The clothing range has been further expanded by the addition of the stretch PVC option to the design range already popular in leather.
Our latest expansion has been with the Roissy Collection. A high quality range of hand forged steel cuffs, collars and many other pleasing designs. Like most of the other ranges, the Roissy collection is just a sample starting point.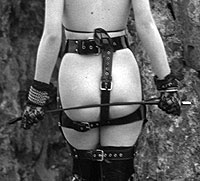 Evangaline: What influences your designs ?

Jim: Personally I like the armoured effect, with plenty of studs, chains and heavy leather in my designs. I just have the image of the body decked out in this manner, with a myriad of straps and buckles etc. The materials we use, leather, rubber, and to some extent, pvc, serve to make the wearer aware of the item they are wearing and its affect on their body. The studs, chains, straps and buckles serve to highlight this and to emphasise particular areas of the body both to the wearer and the onlooker.

Evangaline: How much notice do you place on your customers' individual requirements ?

Jim: While it is obvious that we are striving to expand, we don't want to lose sight of the importance of our individual customers. We like to make up items to the customers' own designs, as well as our own, wherever practical.We feel that we have developed a pretty good reputation for doing this.

Jeanette: Through my overseeing we have built up a personal and friendly service, and Jim will ensure continuity of quality. We feel that it is extremely important to maintain and build on this established reputation for service and quality.
Evangaline: How much importance do you place on individuals' rights to privacy ?
Jim: All our customers are allocated a reference number and their details are NEVER made known to any other party. We are constantly being offered mailing lists and requests made to sell our customer list elsewhere. This we have never considered. We never send unsolicitated mail to anyone, preferring to spend a high profile advertising, and attending shows and markets.
Our customers are of great importance to us, and we want them to know that we can be trusted to handle their personal details, fantasies etc. in a professional manner.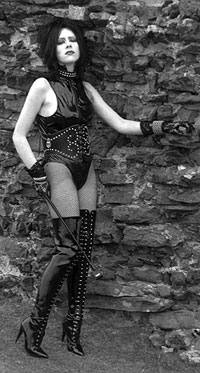 Evangaline: Do you ever come in to personal contact with your customers?

Jim: We've had a few workshop bases over the past few years and have just moved into our latest this spring. It allows for the possibility of customers to collect their orders personally, should they so wish.

As the vast majority of our business is on the made to order basis, very little stock is carried, apart from a few items taken to various club stalls and the Whiplash market in London.

Evangaline: How many clubs does Hidebound attend ?

Jim: I have taken the stall to the fetish market in London for the past six months or so. Also we have supported several other club events. Such as 'The Events' at Derby and Midlands. N.A.F.F. (now Unleashed), and even, occasionally further afield, such as 'The Inner Circle' in Bristol. Of course we have attended all the Marquis' Masquerade events, including the first one, where the erotic dancers 'Slippery When Wet' brought the house down, whilst wearing a series of raunchy outfits provided by Hidebound.

Evangaline: Tell us a bit about your latest venture 'Intrigue'?

Jim: Lately, we decided to put our money where our mouth was, and we have sponsored the first regular (we hope) monthly fetish event in Liverpool. There didn't seem to be much provided in our area, to cater for a fetish night out so we thought we would just try to do it ourselves. The venue is very atmospheric and split level so there is plenty of scope for those who like dancing and music, and a quieter area for socialising.
Evangaline: What kind of support have you received so far?
Jim: We've had some welcome support and hope that Intrigue will become an integral part of the North West scene life. We welcome the gothic participation, as we feel that this is as valid a personal statement as many other facets under the fetish banner. The main thing is to have the right attitude, a live and let live approach. We want people to come along and feel welcome in a friendly atmosphere.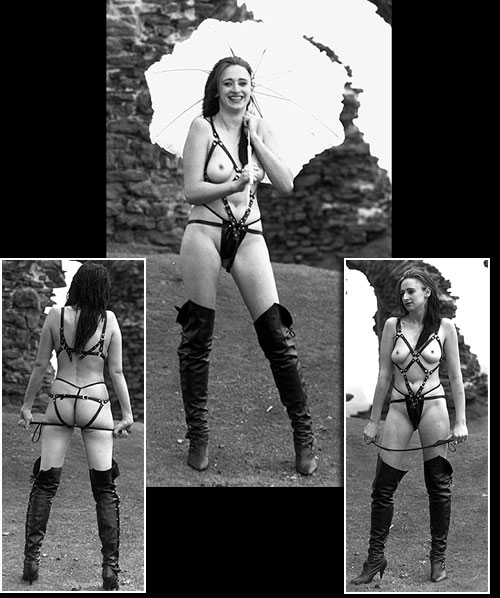 Evangaline: What do you think of the country's current censorship laws ?
Jim: Our outlook is the same as I have just mentioned for the club, live and let live. Of course we support those groups who are lobbying for the introduction of laws more in line with those in the rest of Europe. In the meantime Hidebound has to keep itself on the right side of the law both from the point of view of our business, and personal dealing.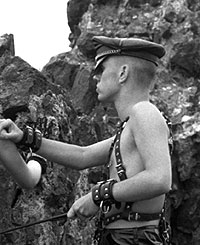 Evangaline: Do you ever get time to do anything else ?

Jim: When we're not involved in running the various aspects of Hidebound, which doesn't leave much time, we enjoy getting out for walks in the country side near our home. I am also the secretary of a local history society.

Jeanette: He is also an inveterate hoarder of all sorts of artifacts, from North American stone arrowheads, to military and uniform buttons.

A lot of Jim's clothing is unique to Hidebound, and it's well worth spending the time to look at the catalogue, or visit one of his stalls. All we have to do now is prize the clothing back from the models, and trek down this mountain.Thanks to Jim and Jeanette for all their support and help.

Hidebound can be seen at the Marquis' Masquerade events or the Whiplash market in London, or write to Hidebound for their latest catalogue (Please send £5, which is refundable with your first order), to:
Hidebound
P.O. Box 10
Freepost MM
Liverpool
Mersyside
L36 6LE
Handcrafted leather and rubber restraints and discipline equipment. Exciting leather, sexy PVC, raunchy latex, bizarre leather and rubber restraints. Harness chainmail and metalware, male 'toys' and accessories.
Whatever your tastes we can help, standard or custom made.