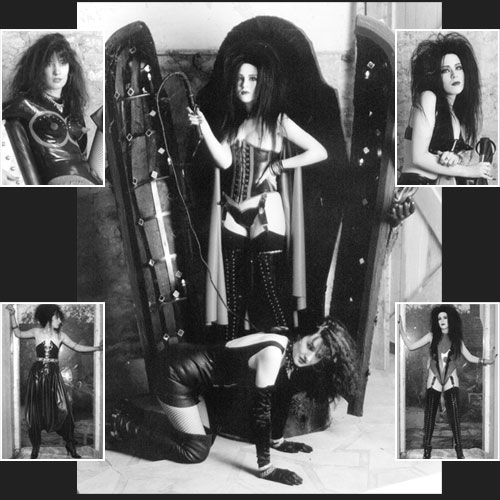 Tentacle is a small company in the heart of Lincolnshire, run by two extremely talented designers, Bev Shalts and Mike Petty. They have been experimenting in working with rubber and have succeeded in creating bizarre relief patterns in the material, producing snake-skin patterns on the surface, perforating and painting.
Entering their workshop is like entering Aladdin's cave. The room is cluttered with materials and tools, new experimental clothing of all descriptions and even some of Mike's early sculptures, which he quickly tries to hide from the camera. Even the strange sarcophagus in the corner actually doesn't look out of place, and shows the diversity of Tentacle's talents.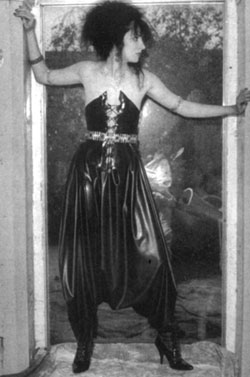 Their philosophy has always been "clothing for those who like to live dangerously." The clothes used in the photos here are just a few of Tentacle's many designs, taken from their latest catalogue. Unfortunately we are not able to show more, mainly due to the fact that most of Tentacle's clothes are made to order, so they tend not to have many spare items lying around. The two models eagerly disappeared to get changed, while we proceeded with the interview.

Evangaline: We will start off with an obvious question. How did you both become interested in the fetish scene?

Bev: Via a boyfriend who showed me an early copy of Skin Two, and then took me to a fetish party.

Mike: I bought a pair of shiny black trousers from Voodoo shop in Leicester, years ago. They felt so good, I was immediately hooked.

Evangaline: Why did you decide to start your own business?

Bev: Well why not? We both love clothes and couldn't find much that was outrageous, stylish and well made in the shops. We've been going for four years now, and it's still fun.

Evangaline: Why did you decide to choose the name Tentacle?

Mike: We wanted something rubbery, playful and a bit odd, with an animal feel. After hours of word play, we came up with Tentacle.
Evangaline: Do you have any big plans to expand Tentacle or do you intend to stay a small friendly company?
Bev: We want to stay small and friendly; constantly developing new ideas and creating new designs. It's essential to keep control of the manufacturing to ensure high quality. Were not in business to rip people off!
Evangaline: Do you think that if you were based in London business would be any better, or be able to attract more customers?
Mike: Not really. There's a lot of interest here. We have our own workshop and have all the facilities we need.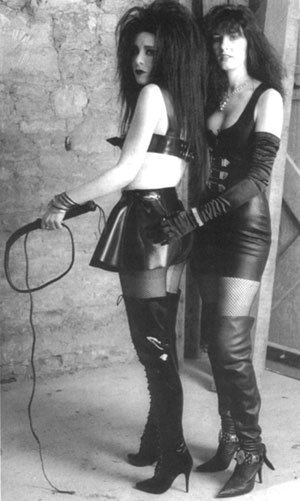 Evangaline: How do you decide upon the designs for your clothing?

Bev: We say "If it feels good do it!" We try on endless prototypes, and I suppose we design for ourselves really.

Evangaline: Do you try and keep an overall design and feel to your work. Like the Tentacle look?

Mike: Not really, it just happens!

Evangaline: Do you ever disagree on which designs are going to be produced?

Bev: Well, er, we have some very noisy design discussions! In the end though, we often have difficulty remembering who thought of which bit.

Mike: It's possible to design something you have confidence in and no-one buys it for months. Then suddenly we'll sell lots, all over the world. This we cannot explain!

Evangaline: Do you deliberately go out of your way to design clothing that is going to be shocking and erotic?

Bev: Yes! Well we use rubber, velvet and sometimes leather, all very sensual materials, and our designs do draw attention to erogenous zones.......so.....

Evangaline: Yes, I think we've noticed that. Why do you think these materials are considered erotic?

Bev: They all move well with the body; have a delicious feel and texture. There's a ritual to putting on this type of clothing. You can't just shrug it on like an old cardigan! It makes you aware of your body.

Evangaline: Why do you think that some "movements" such as Gothic and Rave have shied away from these types of clothing in the past?
Bev: I think that the problem is people are frightened to be, even a little bit different from their group. People in England don't like to draw attention to themselves!
Mike: If someone calls you kinky, why not take it as a compliment. After all, what's normal?
Evangaline: I agree with you. Where do your influences come from for your designs, and do you ever take present fashion trends into account when designing your clothing?
Bev: We have never followed fashion with our designs, but we do a lot of travelling and keep our eyes open. Mainly the inspiration comes from the body, from inside.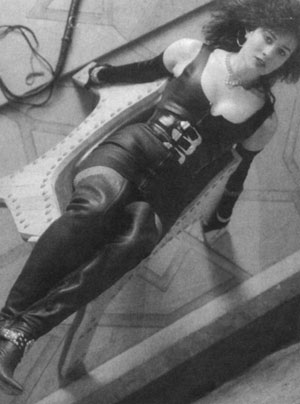 Evangaline: How artistic do you consider your clothes to be?

Bev: Well, we've both had art school educations and some of our clothes have been displayed in an art gallery. But our clothes are designed to be worn.

Evangaline: Do you agree with the censorship laws in this country, and how much do you take notice of them?

Mike: Our second catalogue was possibly not legal in England, but we did it anyway. The present laws are extremely vague and confusing.

Evangaline: Do you enjoy doing private commissions, or are they more trouble than they're worth?

Bev: We enjoy doing them, but they do take a long time.

Evangaline: Do you ever have problems with people changing their minds after you've started making something for them, or not liking the finished article?

Bev: Very seldom. When someone comes to us with an idea, we can usually tell from experience how it will work best. People will usually take advice.

Evangaline: Does it ever frustrate you to have to change, what you consider to be a good design, just to fit someone else's requirements?

Mike: No, never. In that instance we are providing a service. After all they're wearing it, not me!
Evangaline: Would you like to do more designs of your own, or are you happier making other peoples designs?
Bev: Designing is the most interesting, challenging part. All the designs in our catalogue are unique to Tentacle. We come up with new ideas all the time, it's the presentation of them, printing etc. that we can't afford. Other wise they'd be a new Tentacle catalogue every month!
Mike: When we have the time we indulge ourselves by making sculptures and paintings.
Evangaline: What's the strangest commission that you have done?
Mike: The strangest things are the ones we make for ourselves. There's all sorts of weird sculptures lurking in corners of the house, and tumbled around the garden.
Evangaline: Is there any particular type of person that tends to contact you?
Bev: All our customers are individuals, and they write from all over the world.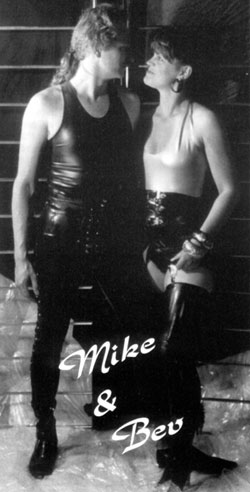 Evangaline: How much importance do you place on an individual's privacy?

Bev and Mike: It's PARAMOUNT.

Evangaline: Do you restrict your designs to the fetish market, or have you tried any other areas?

Bev: We both ride motorbikes, and have found we appeal to the biker and tattooing fraternity. As I said, we've done things in art galleries, and we've got catwalk shows using ultraviolet light lined up in London and Germany. We also do the occasional commission for professional theatre, but at the moment we are concentrating on a new menswear catalogue.

Evangaline: Living in an old school house and having an old church as a workshop, in a small village. Does this say anything special about yourselves?

Mike: Maybe it says we don't conform. But old buildings can be very draughty in winter, so it's not at all glamourous!

Evangaline: Are parties and clubs an important part of Tentacle's social life?

Bev: Yes, it's nice to get out and meet people who think the same way we do.

Mike: And to get away from the draughts at home.

Evangaline: Are there any particular parties you like to attend?

Bev: Well we're off to Skin Two on Halloween, should be a great night! (only kidding). We always attend the Masquerade in Nottingham.

Evangaline: Well, yes I know that.

Bev: And the Events in Derby and Birmingham. Were going to club Sofia in Southampton tonight. It's held in a health club, with sauna, pool etc. Should be fun!
Evangaline: Do you agree with the door policies held by most of the fetish clubs?
Mike: You mean having a dress code ie. "Dress Kinky"? Yes, because it keeps the voyeurs at bay. Once you're in the club, you can relax, everyone is like you.
Evangaline: Do you think the music plays an important part in the scene?
Bev: It goes a long way towards creating the right atmosphere.
Evangaline: Do either of you have any other hobbies?
Bev: Food! We both love cooking, drinking, food and flavours. We have piles and piles of cooking books which we use for inspiration. It's an obsession!
Thanks to Bev and Mike for all their support with everything the Marquis' Masquerade has been involved in. We will be featuring their new menswear catalogue in a future issue. They will be holding a stall at all the Masquerades, including The Carnival of Souls.
Visit their website for the latest designs by Tentacle www.tentacleclothing.com
Image: 1 of 10 Images

click the image to change to the next image.