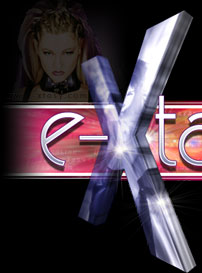 The patron saint of Hallowe'en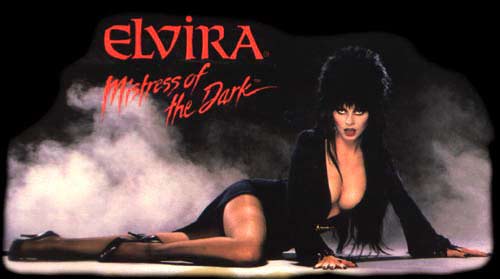 Elvira, to many of us she's a household name, or maybe a bedroom one. Anyway, as everyone knows, unless you have been stuck in a coffin for the last thirteen years, Elvira is Cassandra Peterson's alter ego. The sexy sorceress introduced herself back in 1981, and ever since, the Mistress of the Dark, with her plunging neckline and pale complexion has turned up on video games, pinball machines, greeting cards, model kits and limited collections of plates and mugs, after striking fame by introducing B-Movie horror films on American TV.
Brinkie Stevens, was once quoted as saying, "Unlike predecessors, such as Vampira, and Moona Lisa on San Diego TV, Elvira brought a whole new sense of fun and raunchiness to her 'bad girl' role. She's entered the cultural mainstream, the most hip, dark siren, ever."
Cassandra was a small town girl, born in Kansas and raised in Colorado Springs. Her mother ran a costume shop, which provided hours of entertainment for our heroine. She and a friend of hers, used to raid the place, when they were in second grade, and in the alleyway at the back of the shop, they would perform circuses. Cassandra had her own horse, and she used to ride round and round in circles, pretending to be a bare back rider. As with everyone one else, they spent a lot of time lip-syncing to various records, and the elaborate shows they performed soon became a big hit in the neighbourhood.
Ever since Cassandra was three years old, she has been a dedicated dance student. Watching old Elvis movies and then performing dance numbers from the movies, sometimes running out and buying the film soundtrack album.
On a trip to Las Vegas with her parents, little Cassandra first realised how she could turn her love of dance and glitzy costumes into a full time career.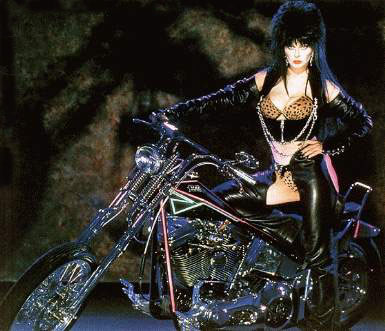 Seated in the audience of the Dunes 'Vive Les Girls' revue, she caught the attention of the ballet mistress. "I was dressed up really sexy, so I looked old enough to get in the place," she recounted. "I stuffed everything I had inside my bra, so I had this incredible cleavage. I had so much makeup on, I'm sure they thought I had escaped from the show. They came down and said, 'Are you one of the showgirls?' I sat there, freaked out because I was afraid they'd find out I was only 17, and I was sitting, drinking champagne - which my parents let me have. I thought I was going to be in very big trouble. They said, 'We're looking for showgirls. We're opening a new show, and we're having auditions tomorrow. Why don't you audition?' They took me backstage right then, put on a record and had me dance. Afterwards, they said, 'You'd be great. Come back and meet the producer tomorrow.'"

I broke down and cried. 'I'm not really 21, I'm only 17,' I confessed, 'and now I'm gonna go to prison!' 'No, no, it's okay,' they said. 'If your parents sign a release, you can still be in the show. You can't go through the casino or drink alcohol. Just come and go by the stage door.'

She then returned to Colorado Spings with a new determination. Cassandra finished high school and headed back to Las Vegas the day she graduated. Ever since she had seen Ann Margret in 'Viva Las Vegas' she knew that she wanted to be a showgirl.
As these things happen, Cassandra turned out to be the youngest showgirl in Las Vegas history. Things started out well and she had a lot of fun, but that soon changed as the job turned out to be a lot tougher than she realised. She worked seven day weeks, with three shows a night, and in those days there was no such thing as days off. She would sleep all day and be up all night, this messed her up for a while as she ended up never seeing daylight. After a year she decided that she'd had enough, partly due to always living in air conditioned rooms, and the day her contract expired she packed her bags and left.
Still determined to pursue her singing career, Cassandra headed off to Italy.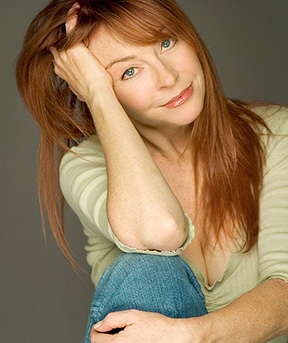 While walking down the street with a friend of hers, she bumped into a man she had met in Las Vegas, a student director. He introduced them to Federico Fellini, who asked if they wanted to work in films. They said yes, and ended up playing bit parts, which meant they performed various parts, with different wacky wigs and costumes every day. They did have a few lines, so they weren't extras which meant they got paid. Cassandra appears for a 30 second clip in 'Fellini's Roma', (1972). With this insight into the world of film, she decided to turn her talents more towards acting.

Cassandra played many small rolls in various films, spaghetti westerns and some really cheesy horror films. One of the movies she was put up for was to be directed by Ken Russell, (The Devils), where she was to play a nun. The problem was she had very long hair and they wanted to shave it off, which she didn't allow.

During her time in Italy, Cassandra became the front singer for an Italian rock band, which actually paid a lot more than her acting. She found it hard to get acting jobs, and when she did there was no such thing as unions, and she ended up not getting paid. So when the original singer left to get married, Cassandra took over. She travelled for a year with the band, and then left, returning to the States.

Her acting career kind of got a little sidetracked for a while, as she kept being offered dancing jobs. The problem with these were they paid very well, and being in the need for money, she accepted. She worked the Playboy club circuit for a while, which at the time was very popular.
In 1975 Cassandra moved to Los Angles and took a job in a nightclub revue titled 'Mama's Boys'. She played the part of 'Mama', and had seven guys around her, who were 'the Boys' and they all ended up leaving town together.
After each show she appeared in, Cassandra would return to her agent. The problem was no-one would know her anymore, and she would need a whole new set of photos for her portfolio, meet all new casting directors, basically start from the beginning again, each time.
After a while Cassandra made a conscious decision not to pursue her singing and dancing career any further. She decided to tackle dramatic training and auditions. She ended up with some small parts in various films, including,'Cheech and Chong's Next Movie' in 1980, and small roles in TV fare like 'House Calls', 'Happy Days', 'CHiPS' and 'Fantasy Island'.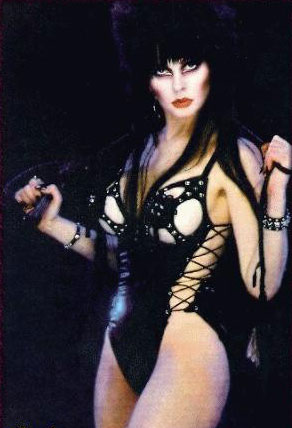 Cassandra soon discovered that she wanted to concentrate more on comedy, and honed her skills by a stint in an imporvisational comedy troupe, The Groundlings. Through this she built up a friendship with Reubans, which later reciprocated with her 'Biker Mama' role in 'Pee-Wee's Big Adventure' in 1985.

Cassandra auditioned for the part of Ginger Grant in a revival of Gilligan's Island. She kept getting picked for the short list, and kept having to return for further auditions. She had admired the original Ginger Grant, and had always wanted to be like her, so the role was a fairly important one for her.

But the show changed and a new producer took over. He had seen Cassandra appear with the Groundlings on a night they performed a risque improv. The sketch involved a gynaecologist or something. While everything was performed with their clothes on, the producer decided that he didn't want this sort of element to be associated with his show.

This was probably one of the worst times for Cassandra, as she contemplated giving up and heading into the 9 to 5 routine. She even talked a friend of hers into giving her a job in his company.

Fortunately, Cassandra received a phone call from a friend of hers, saying that she knew a director at a TV station who was looking for a horror show hostess. He wanted a woman with big boobs, who could be funny.

Cassandra had been a big fan of B-Movies, especially the horror, biker and prison movies. She and a few friends had a little film society, that they called 'Le Chien', which is French for 'the Dog'. She really liked the Edward D. Wood, and Hammer Horror movies. So when a chance came up to be involved with a lot of old movies, she jumped at the opportunity.
Cassandra auditioned for the position of KHJ-TV's Horror Hostess as herself in late August 1981, and all her efforts were rewarded by her being offered the role. She was, however, told to come up with her own design for a costume, which was spooky looking.
At this point she got together with a friend of hers, him being an artist, and drew up a picture. Cassandra and make-up artist / costume designer Robert Redding, then put together their initial attempt at a costume, which ended up being along the lines of Sharon Tate in 'The Fearless Vampire Killers', (one of Cassandra's favourite films). The look was Cassandra with curly red hair, pale features, eyes hollowed out with dark circles, to make her appear dead looking, dressed in a sort of sheer see-through, tattered negligee.
The TV station didn't like it, she was told that it would have to be black hair with a black dress, very cleché. Her friend redrew the picture, and after a few attempts they came up with an 80's version of a compromise between the TV station and herself.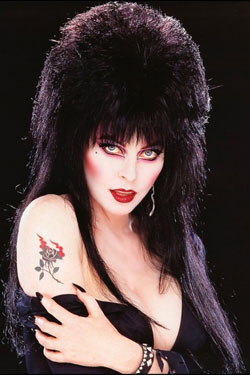 In mid September of 1981, draped across a red Victorian sofa, with a set decorated to resemble a haunted house garage sale, Elvira made her first appearance, thrilling her small audience with her witty repartee, as she introduced schlock horror films and grade Z Sci-Fi movies.

Since the beginning, Cassandra has always had help from John Paragon, in writing her material, and working out her shows.

On May 23rd 1982 Elvira hosted a special KHJ-TV screening of 'The Mad Magician', (1954), a 3-D thriller starring Vincent Price. Both Elvira and the movie were broadcast in glorious 3-D, a television first, and over 2.7 million pairs of 3-D glasses were sold in Los Angles.

This boosted Elvira's character appeal to a larger audience, and brought about her first appearance on the 'Tonight Show' a week later. This was soon followed by her first single, released by Rhino, '3-D Tonight'.

In the beginning, Cassandra did not own any rights to the character, Elvira, which she created. But due to the TV company not giving her rises over the years, and a good manager, (now her husband), she took a little of the rights instead, until eventually she owned the full rights to the Elvira character.

Finally Cassandra secured a syndication deal and Elvira spread over the whole of the States. The last place for her to reach, was, of course, the East coast. It took several years of promoting before her appeal reached national proportions.
Over a period of years, the character Elvira appeared in various TV shows, including, CHiPS and The Fall Guy.
The Elvira stage act debuted at Knott's Berry Farm in October 1982, and turned into an annual event, which drew crowds up to as many as 80,000.
To top the year she earned an Emmy nomination for 'Best Local Program'.
In 1985, Elvira moved into the home video market, by hosting 'Live' entertainments 'Horror Theatre' series. With this enterprise Cassandra chose the films that she wanted to host, mainly campy B-flavoured films that she could make fun at. The ones she turned down, were the slasher or notoriously violent films, which did not appeal to Cassandra.
In 1985, Collegeville/Imagineering L.P. introduced the Elvira Hallowe'en costume, which rapidly became the best selling costume in the US.
US Coors Beer signed Elvira in 1987 for a series of Hallowe'en commercials, thus making Cassandra the first ever woman to endorse a beer product.
Cassandra made various appearances in films, such as: 1973 'The Working Girl', 1988 'Stoker Ace', 1985 'Born In East LA', and 1986 'Echo Park'.
In 1988, Elvira and Cassandra moved onto new heights, with the release of 'Elvira, Mistress of the Dark', which was actually the last film to be released by New World Pictures. The film was co-produced by Cassandra's own Queen B Productions, and was an instant hit.
In 1990 Elvira endorsed her own perfume 'Evil', and was the first product to bear the 'cruelty-free' symbol of PETA, (People for the Ethical Treatment of Animals). Also in this year, Cassandra won the award for top 'Humanitarian' from PETA.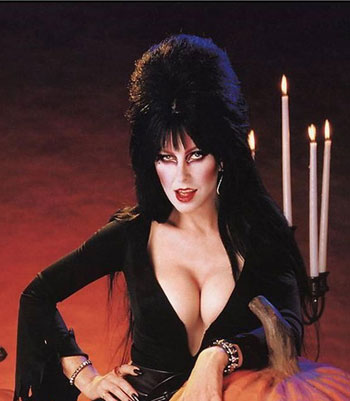 Elvira also launched Rhino's home video's 'Midnight Madness', where she again served as hostess to such films as, 'The Hideous Sun Demon' (1959) and 'The Brain From Planet Arous' (1957). The problem was there was a lot of film purists, who objected to the constant interruptions by Elvira, (boring people, these were probably the best parts of the whole film). The films were re-issued, without the interruptions, and actually carried little stickers so that people could tell which was which.

In 1991, Elvira celebrated her 10th anniversary as America's 'Glamour Ghoul'. After a two year stint of 'spokesperson' for Mug Root Beer, Elvira was re-signed by Coors Beer. The year's highlight however, must have been the Knott's Berry Farm live show, 'Truth or Scare', which parodied Madonna's 'Truth or Dare' documentary. Here she performed Madonna's songs, but made the lyrics spooky, so they were more in keeping with her character, such as 'Vogue' became 'Morgue'. During the making of this six minute black and white version of 'Truth or Dare', she featured a satirical re-enactment of the interplay between Madonna and Kevin Costner, with Richard Chaimberlain playing the subject of Elvira's distain. She just asked him if he would do it, and he said yes.

Their friendship started when Cassandra worked with Richard Chamberlain on the film 'Allan Quarteman and the Lost City of Gold' in 1987.Unfortunately, Cassandra was cut from the final film, but they do, however, use still shots of her for promotion, even now.

Cassandra had to turn down the part of Ms. Muso in Fox TV's Parker Lewis Can't Loose, due to the problem of contracts around Hallowe'en, this being her busiest period.
Cassandra is currently in contact with Las Vegas, trying to make a deal for an 'Elvira' show. The main problem is that when they put a show on in Las Vegas, it costs a lot of money, so the show has to run for a long time to recuperate the money. Or they hire someone really big, like Sinatra for a weekend. Cassandra is trying to make a deal where the show will run for just a few months, but they are having a hard time convincing Las Vegas.
Cassandra has also filmed a pilot for the 'Elvira' television series, which was produced for CBS in conjunction with 20th Century Fox. The story involved three sorceresses living in a small town. They possess 'really cheesy' powers, and wield them only when absolutely necessary. Katherine Helmond played Elvira's aunt and they concealed their true identities from the people. The niece, who went to a Catholic girls' school, was totally embarrassed by them, and tried to make them look very normal and straight. She wanted nothing to do with witchcraft. They were two completely wacky people.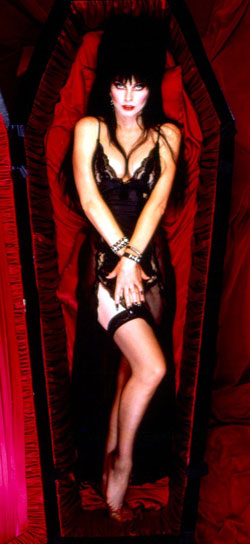 Unfortunately the network decided that the show was too sexy, and ribald burlesque jokes too risqué for television. They wanted something more in the way of 'Roseanne' mixed with 'Home Improvements'. It was a great shame, and Cassandra would like to get it aired, somehow, so that people could see it.

Cassandra is also personally writing the script for the sequel to 'Elvira Mistress of the Dark' film. There again, the problem is finding a company to back the film, although Cassandra says the film will be made, even if the budget ends up being smaller than they would like.

Cassandra has just finished writing her book 'Elvira's 101 Favourite Best of the Worst Horror'. She has also made a couple of cameo appearances including one in 'Acting on Impulse' (1993).

She has also appeared in the film 'It's My Party', which was done for friends. The film is about a very dear friend of theirs who had just passed away. It is only a very small part, but it does feature Cassandra Peterson and Mark Pierson's baby Sadie, in her film debut.

Elvira has also released several records on the Rhino label, where she introduces spooky hits from various films, and she performs a couple of songs on each herself. 'Elvira Presents Haunted Hits' (1988), which is a double album, and 'Elvira Presents Monster Hits' (1994), and 'Elvira Presents Revenge of the Monster Hits' (1995).

This is just a very short trip through the life of the best loved Horror Hostess, or Gothic Goddess's life. Most of you will probably already know what has been written, but hopefully for some of you some of it will be new information.

Elvira is heroine to many of us, who appreciate her special type of humour, (which is very risqué), her talent and other ample attributes. With a little luck, and common sense by some people with money, the 'Elvira' TV series and the new movie will be become a reality.

So in the immortal words of the Mistress of the Dark herself, 'Unpleasant Dreams'.
Official Elvira Website
Elvira Images
Photos by: David Goldner