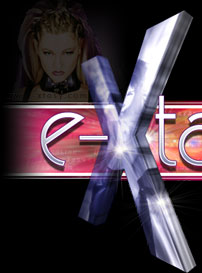 In a lot of respects Finnish band "Two Witches" are perfect for "The Marquis' Masquerade" magazine to cover. They are a gothic rock band who comprise both male and female members who immerse themselves totally in the erotic and the gothic. According to founder member Jyrki "Two Witches main interests are Vampires and sex!" He continues "I want to write about things I'm interested in, not everyday problems or politics. Sex is our religion!"

A very visual band who not only sing about their interests, they also live the life. Jyrki says "I feel much more comfortable in black leather than for example jeans. Being a singer in a gothic band like "Two Witches" which is so much in tune with the fetish scene, kind of gives me a reason to dress in leather clothes in my normal life. It's like a permission to be a perv."

Nauku, lead female vocalist, puts forward the feminine perspective "It's also a question of sensuality, you can dress in a way you want and find pleasing to yourself without being an object. I think it's more erotic than pornography. Here in Finland it is quite hard to dress like that, especially for women. So often people think that you are a slut! But these days we are a bit more well known, so we can hide behind a "rock image". Jyrki picks up the conversation "I think the whole gothic-rock/dark wave scene is really erotic itself. Black/ crimson/purple clothes made in velvet/pvc/lace/leather etc, along with the music itself, so dark, atmospheric and sensual. Deep soulful vocals bringing in so many of all things mystical and deep... And that interest in vampirism!

Nauku adds "Most goths look really sexy, their clothes, hairstyle, make up etc. It's really good, 'cos sex is so important a thing in everyone's life, and in this scene you can dress how you want to. Our favourite magazines are "Skin Two" "O" "Secret" and now "Marquis' Masquerade". We read these for many reasons, one of them is to get some new dressing ideas."

Two Witches started in 1987 founded by Jyrki and Anne. Since that time they went through many a line up change that has now settled down to the main members of Jyrki vocalist, Nauku vocals, and Toby guitar. During that time they recorded a couple of now deleted singles, donated tracks to several compilation CD's and tapes and have recorded two fine CD albums. "Vampires Kiss" (originally titled Agony Of The Undead Vampire part 2) and "Phaeriemagik". Also most recently they have a new CD maxi available called "Bloody Kisses". The visual side of the band is not just confined to their own appearance, they also illustrate most of their songs. Check out the limited edition booklet "Agony Of The Undead Vampire part 3", and the booklets for both the CD albums "Vampires Kiss" and "Phaeriemagik".
Jyrki speaks again about the music "Our new maxi is absolutely the best from us to date! Especially the song "Requiem", you can really hear that Toby (guitarist) has been playing in German band "Love Like Blood". Guitars and drums are so similar! We are now working on our next full length CD album which comes out in early March-April 1995. On it we have written a song which finishes off the last part of what we call our "Perv trilogy". On the first CD we had a song called "Fetish Dreams" which was all about a boy's wish to be a slave. On our second CD album there was a song called "Games" all about dressing for pleasure...Anything goes, boys or girls! Now the third song called "Naughty", which will be on our next full length CD album is essentially a song about a naughty girl and an older man who both love spanking!" "Two Witches" are a band that I think will appeal to anyone who has a love of the dark and the sexual. A band who are unafraid of their sexual nature and are not timid to share their thoughts with us all.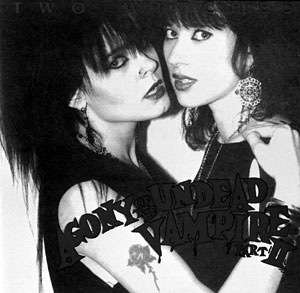 A bit of a return to form after their last CD album "Phariemagik". This maxi sees the band airing their more gothic side. A black cover and songs in the whole about vampires and death. "Requiem", the lead track, is the strongest, and it is obvious that guitarist Toby picked up some musical tips from his sojourn with "Love Like Blood". On the whole though, this 4 track is a downbeat affair with a lot of melancholic introspection.
Trev.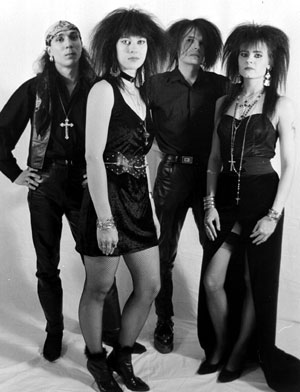 For more information about "Two Witches" please write to to:
Darklands
Box 29
33201
Tampere
Finland
Enclosing an I.R.C.