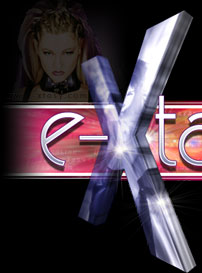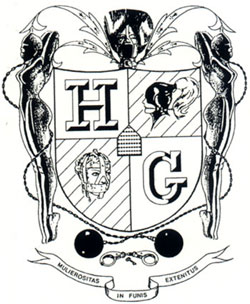 The House of Gord is an organisation which lives in the world of fantasy bondage. They produce books and magazines on their favourite subject, entering into a world of bound and gagged fantasy. Sensuous women in high heels, clad in tight rubber and leather outfits act out scenarios of Gord's imagination.

The House of Gord, as many people have heard have, in fact, come under some dubious legal quarrels with the ever stringent Customs. There are a lot of things they are trying to prosecute him for, personally, and in his business. Most of these are very upsetting, and very dangerous for the rest of us. If Customs win, it could mean that anything you buy for yourself personally from abroad could actually get you in trouble with the law for importing pornographic material, even if it is sold legally in this country. Many of you already know about this case, but if you require more information, or just wish to help, the address to send to is at the end of this article.

The books that The House of Gord produce are pure fantasy. The ideal book to start with if you are interested in entering into this world of bondage is "Bound For Good". This book leads the young girl of the story into an array of different constrained adventures of her own choice. As the book progresses, the scenarios become ever increasing in severity, this book however tends not to get as far fetched as many of his other books.
The 2477 series starts with the book "2477AD", which leads you into a world dominated by men, where women are slowly, but surely, becoming their play things, pets to show off and humiliate. There are a few women still in positions of authority, and the story follows, one such woman, and her pets exploits. The scenarios become more futuristic and bordering on the physically impossible. This book, however, does get you accustomed the the Gords world in 2477. In the following 2477 books things become even more futuristic, with things like the 'femmobile', a female powered car. This contraption encases the women, or woman, under the bonnet, and by inducing electrical shocks to her body, produces her to jerk and so propel the cam-shaft, all the time these females are stuffed, back and front, with vibrators. The contraptions and scenarios become more and more futuristic as the stories progress. Sometimes even to the point of forgetting the storyline, and just bent on describing these futuristic machines. By the end of book two you are immersed in total fantasy, with the world described in intimate detail. Females are now mere things to use and humiliate in whatever bizarre way you can imagine, and even some that you would never imagine.

The "Judge" series is again set in the future, again in the 25th century, but this time in another country. They follow the rise to control of Australia, by the Judge. There are many of the same contraptions as in the '2477AD' series, but with the introduction of the 'pony girls'. These unfortunates are used as standard transport for many people, and are reformed in every way possible to perform their appointed task. Again, the story goes into great detail of how these females are encased in their world, as pleasure victims. The judge is a bondage connoisseur with his own expert way of fulfiling their own desires as well as his own. His own personal pet is encased in rubber, and then by using a special chemical, the rubber is forced to contract until the girl is wearing an extremely tight second skin.

Each of his books takes you deeper and deeper into his own vision of the future where bondage of the females is an everyday occurrence, and all done in the name of love and respect. The books bring across the fact that the majority of the women involved enjoy their imprisonment, with sexually satisfaction coming at regular intervals, and all because their masters wish them to.

The other thing to note about the House of Gord books is the artwork. A majority of the artwork is done by a man named Benson. His artwork is straight black and white, and each illustration graphically describes what is happening in the story. If you are unsure how a particular piece of apparatus is working, you just look at the appropriate picture. His style is simple and straight forward, with no unnecessary cluttering of the picture. The illustrations are not intended to be photo realistic, but give off a good feeling for the story. The House of Gord have just published an A4 book of his artwork, a hard backed book printed on gloss art paper, giving an excellent presentation of his artwork. He has also included several colour pieces of artwork, which really bring the pictures to life.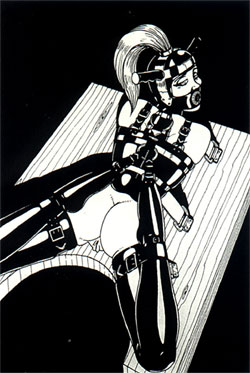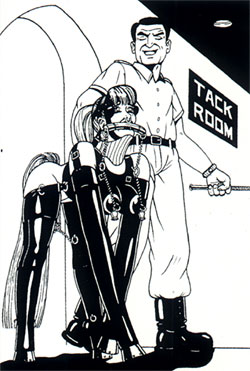 Gords magazine "Fantasy" is now into issue 4, (due to be released soon). The magazines are a light hearted and interesting look into the life of Gord and Gwen. He talks about things that he has devised and how to use them, giving enthusiasts a look into the more bizarre aspects of bondage life. With Gwen giving you a commentary on what happens and how it feels (in between the groans, when Gord actually removes her gag for a few minutes). Gord's love of photography is evident from the magazines, just from the number of photographs, nearly every page has Gwen in a different position, bound and gagged. The magazine now has moved onto full colour and is definitely the magazine for anyone who finds the art of the bondage connoisseur mildly interesting. These magazines specialise in bondage and nothing else. He also includes a variety of stories, some not quite as futuristic as some of his books, but still giving you the ultimate in fettered females.
The House of Gord is also renowned for its pony girls. With his own stables and buggies and grounds, Gwen can often be found tethered to a post in anticipation for a gallop round when Gord decides he will let her. In Issue 3 of 'Fantasy' he describes how to train a pony girl, it also shows how Gord himself has to get between the reins to demonstrate the art of pulling a buggy. His love for the pony girls comes through in many of his stories, describing their feelings and reactions to what is happening to them, I assume he asked Gwen about this.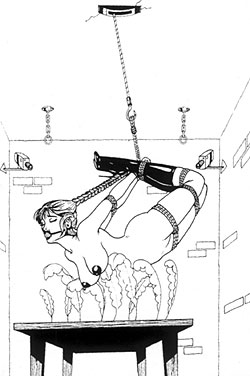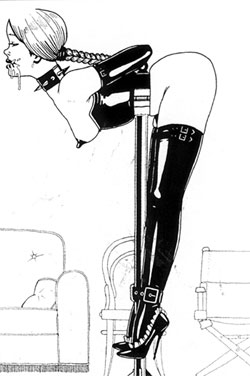 If you have never heard of the House of Gord, then they are well worth contacting, especially if you are interested in bondage. His attitude to life is fun and interesting and comes across well in all his publications. If you are not sure whether you are interested or not then try one of his magazines first, this will give you a good idea of what he does. If you are interested in the stories then I suggest you try the book "Bound for Good" first.
For further information contact:
H.G. Publications
To learn more about The House of Gord, visit thier website www.houseofgord.com