Gitane Demone is a name that is often unearthed throughout the pages of every fetish magazine and gothic fanzine in the world! Her very original and self composed fetish photographs stay as an after image in the mind long after the individual has read the accompanying text.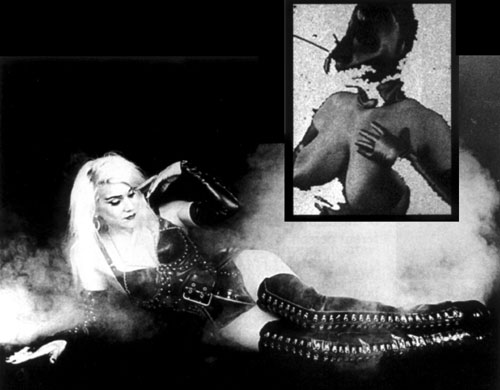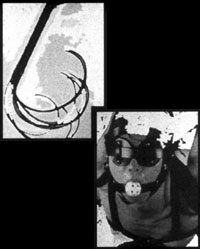 She started her musical career in 1983 when she was invited to join LA proto gothic band "Christian Death" by founder member Rozz Williams, and continued long after Rozz quit the group and Valor took on the mantle of responsibility of front man. Gitane herself was cast in the role of keyboards and backing vocals for all of the 16 records, 5 videos and 9 years of continual touring of the UK, Europe and the US. She was always visually striking, and from a performance and artistic perspective a balance to both Rozz and Valor. All the promo videos hinted quite strongly of Gitane's familiarity of the fetish scene. In the promo for "The Church Of No Return" she wore her now almost trademark leather basque, stockings, suspenders and a full length blonde wig. In the video for the song "Zero Sex" she was the mysterious woman in the miniskirt walking around London's famous redlight district of Soho. To many observers she was a woman of obvious talent and drive, and it was of no surprise when in her time off from "Christian Death" she started to put together her own solo career. Performing in jazz clubs with greats such as Frank Wright and Woody Shaw and paying tribute to Billie Holiday! A vast departure to the ultra gothic "Christian Death"! Gitane began to come into her own.

After leaving Valor and co she began composing her own music which incorporated all her interests of: love, sex, death, dreams and the fetish heart of her began to assert itself. The first solo release from Gitane "A Heavenly Melancholy" was a special dance project which featured a mixture of jazz vocals, dance beats and upfront guitars all produced by Ken Thomas (Clock DVA, Cabaret Voltaire, Sugarcubes). The cover featured Gitane encased in a full rubber bodysuit on a rubber clad bed with various S & M accoutrements scattered around. Shocking! according to some writers, but the single did get "Melody Maker" single of the month. Gitane had now well and truly brought her fetish side into the light.
She continued her musical work next by immersing herself in minimalist instrumentation with the second single "Lullabies For A Troubled World". Recorded live in the studio with her new band. All the above recordings have now been reissued on the CD "Facets Of Blue". Her next project was a collaboration with Mark Ickx and was of a far more fetish nature, a project dubbed "Demonix" with the CD entitled "Never Felt So Alive". Essentially this recording exposes Gitane's experimental and electronic influences alongside very strong sexually explicit lyrics. Such as the track "Loveless": ...... "Kiss Me ..... Suck me ..... Lick me ..... fuck me ... lay me.." Or the song "Tongue Of Fire": Feel The lash, tongue of fire, catch the flash." The look of the whole CD is a quality montage of fetish photographs and is effectively a fetish tour de force.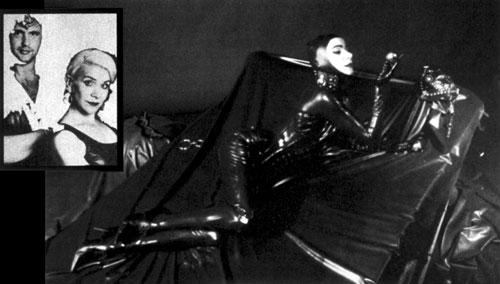 Since completing this project Gitane has now moved on again and has toured with old "Christian Death" sparing partner Rozz Williams and shortly we can expect a live CD recorded on that tour in Cannes France. The CD will feature some songs by Gitane and Rozz as well as tracks from her previous releases and some "Christian Death" favourites. Also, as this article is being written, Gitane is touring the USA with Rozz and will be recording a mini CD. In between all this she is also working on her own full length CD album (for release by the end of 1995) the title of which has still not been announced.
The scope and breadth of Gitane's work is almost too much for the average human mind to take in at once. Shifting from gothic "Christian Death" to blues and jazz, then onto electronic experimental and dance music. A songstress and a free spirit, a fetish icon and artist extrodinaire.
This musical project as we already know features "Christian Death" legend Gitane Demone and collaborator Marc Ickx. The whole CD is dedicated to the fetish scene. Songs like "Perv", "Voyeur" and "Cool Domina" speak for themselves. The music isn't traditionally goth, but rather an electronic teutonic disco experience with the ice-like Gitane vocally keeping order. The packaging is again excellent and consistent with the usual "Hyperium" quality. A beautifully crafted booklet with excellent fetish photographs.